So the plan was to finish work at 1800h, get home by 1830h, eat, change into underarmour and tracksuit, head for UCD by 1900h, get there by 1930h and spend at least 20 minutes wall-watching, be on the line in full kit and good to go by the start of prep time. It didn't quite work out that way, I deferred leaving until 1940h and got to UCD by 2010h. Still plenty of time, still did my wall watching, wasn't rushed and somehow still manged to be dressing during prep time. D'oh.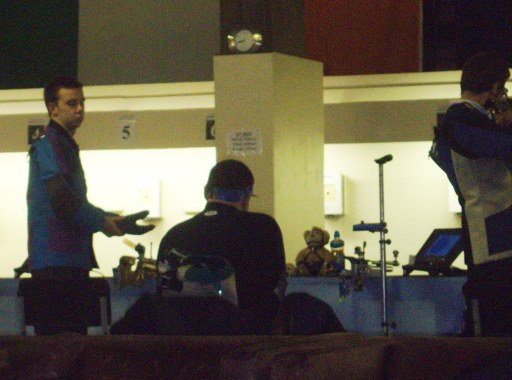 Still, I did get a good five minutes of settling into the position during prep, so that was an improvement on the usual mad rush I get buried by.
Herself Indoors also turned up to watch and take photos, which was nice 🙂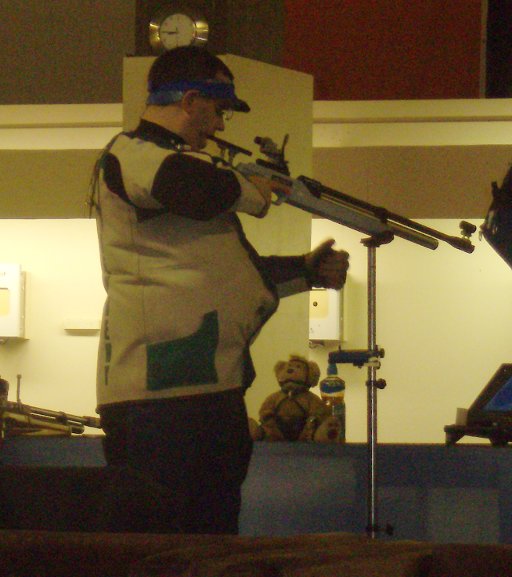 The position felt constructed in the first third of the match; by which I mean that it felt like it has in training – set up the position, hold and wait for the rifle to come down and take the shot. It wasn't horrible, but it didn't feel remarkable really, just putting training into practice on another range. But… there were eights. Bleuch.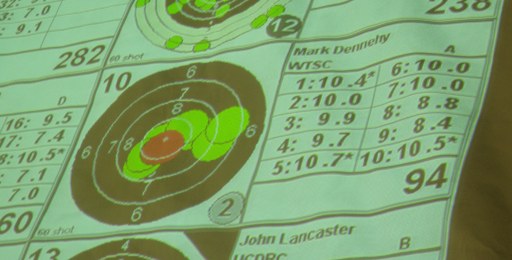 I'm not even sure of why there were eights. Though, apart from them (to play the traditional "what if I'd shot better" game beloved of shooters 🙄 ), the group was nice enough.
I hit problems in the middle of the match more than anywhere else; the position lost its definitive 'clunk' when dropping the rifle into position and I found I was having to watch my sight picture far more than normal. Most of the nines in the middle 20 shots were down to sight alignment, not sway or wobble, oddly enough. I dropped the foresight from 4.4mm to 4.3mm and dialed down the rearsight diopter to 1.1mm; this seemed to help a lot.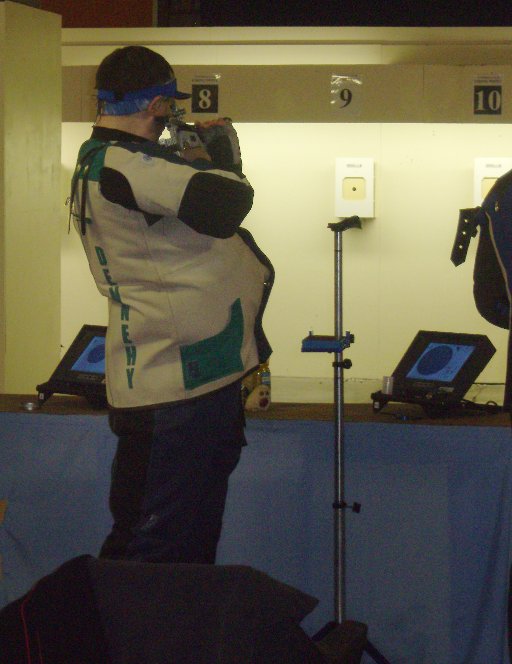 Then the last 20 shots came up, and by now I was concerned over time pressure and was shooting faster; and something just clicked and the rifle started to lock into the position. Buttplate, pistol grip, glove hand, raise rifle, swing elbow, drop into –thunk– place, cant into the face, roll head forward, drop eyes to look at bear, raise eyes to check NPA and aim, pause, hold, shoot, follow-through, and up and reload and do it over again. It felt wonderful. No sway as such, all the muscles had relaxed, everything was just flowing along. Brilliant.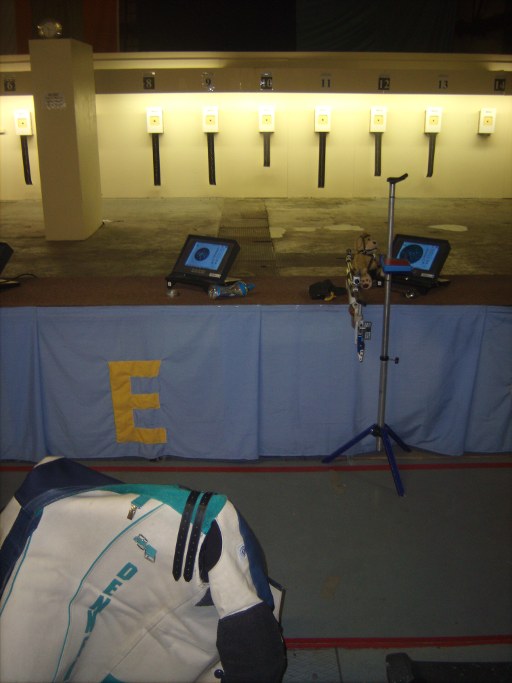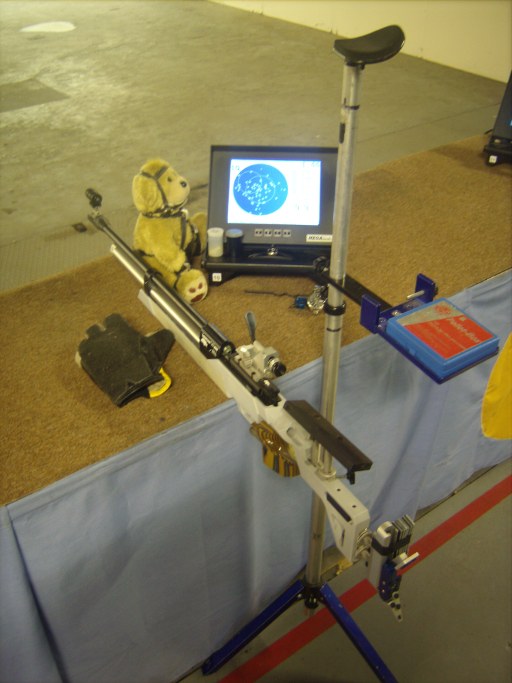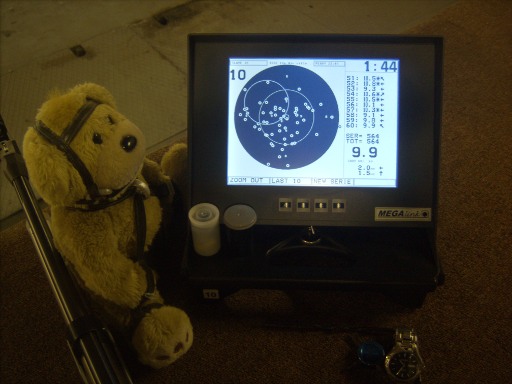 Yes, I said bear 😀 Meet the mascot, which also plays the role of giving a visual focal point when looking away to check NPA…
Now as to the results, I was hoping to break 540. I comfortably left that behind: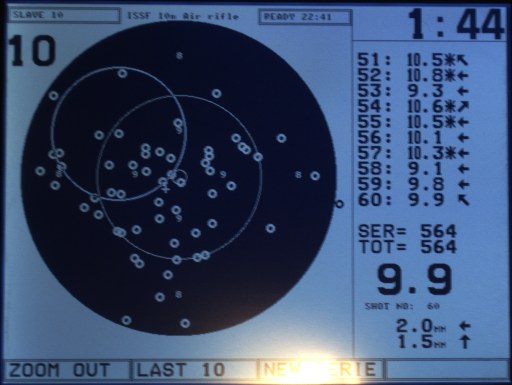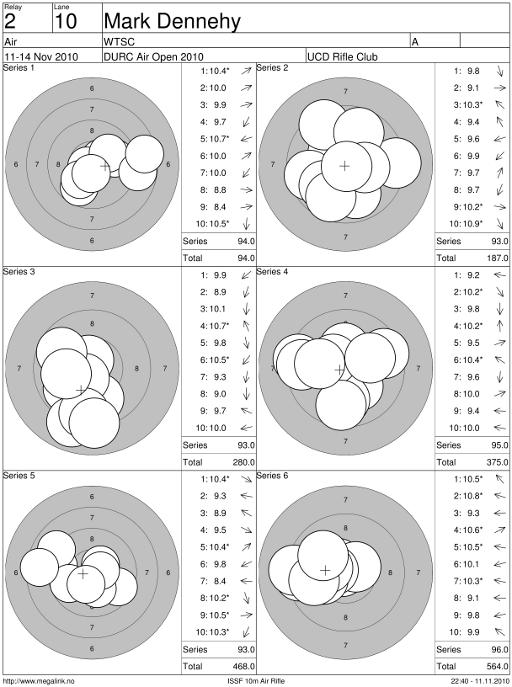 564 is 5 points below my PB; and there are five 8s in that score. So it was potentially my PB. Not bad for a first match back…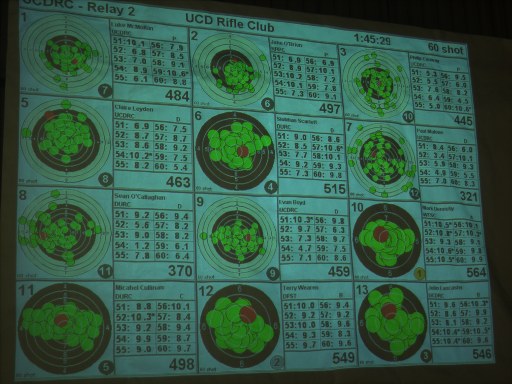 The first match for the new cheekpiece left an impression as well: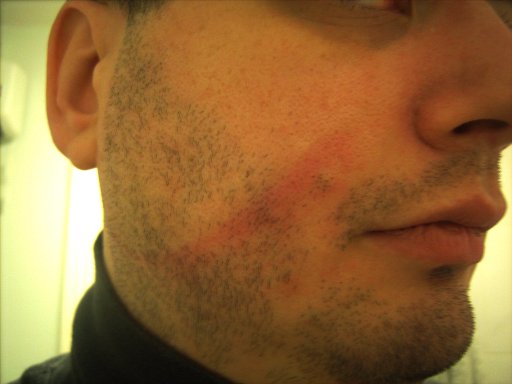 Postscript: Came in second when all the scores were in, Ray posted an excellent 580 for a convincing trouncing, but 2nd place on the first match back is still fine by me!
Scores up from shooting.boards.ie:
Air Rifle 60 Shot
| Rank | Shooter | Club | | | | | | | Total | Inner 10s |
| --- | --- | --- | --- | --- | --- | --- | --- | --- | --- | --- |
| 1 | Ray Kane | DFST | 94 | 95 | 99 | 100 | 96 | 96 | 580 | (34*) |
| 2 | Mark Dennehy | WTSC | 94 | 93 | 93 | 95 | 93 | 96 | 564 | (21*) |
| 3 | Paul O'Boyle | WTSC | 90 | 93 | 91 | 90 | 95 | 93 | 552 | (20*) |
| 4 | Terry Wearen | DFST | 91 | 93 | 94 | 91 | 89 | 91 | 549 | (8*) |
| 5 | Tian Carey | UCDRC | 87 | 91 | 95 | 85 | 94 | 94 | 546 | (20*) |
| 6 | John Lancaster | UCDRC | 88 | 94 | 92 | 89 | 91 | 92 | 546 | (18*) |
| 7 | Diyu Wu | DURC | 85 | 93 | 88 | 91 | 91 | 90 | 538 | (15*) |
| 8 | Lorcan O'Carrol | DURC | 89 | 87 | 89 | 94 | 86 | 90 | 535 | (11*) |
| 9 | Siobhan Scarlett | DURC | 82 | 82 | 85 | 89 | 91 | 86 | 515 | (7*) |
| 10 | Micahel Cullinan | DURC | 79 | 88 | 76 | 82 | 84 | 89 | 498 | (7*) |
| 11 | Hossein Habibi | UCDRC | 79 | 77 | 87 | 87 | 80 | 79 | 489 | (9*) |
| 12 | Frank Lavery | DURC | 85 | 87 | 76 | 77 | 82 | 82 | 489 | (8*) |
| 13 | Tim Hynes | DURC | 77 | 80 | 77 | 80 | 84 | 80 | 478 | (5*) |
| 14 | Ian Beatty Orr | DURC | 80 | 76 | 80 | 77 | 75 | 82 | 470 | (6*) |
| 15 | Logan Hasenbeck | DURC | 77 | 77 | 74 | 70 | 83 | 83 | 464 | (3*) |
| 16 | Tayyaub Mansoor | UCDRC | 86 | 73 | 77 | 81 | 82 | 64 | 463 | (5*) |
| 17 | Claire Leyden | UCDRC | 75 | 70 | 75 | 83 | 84 | 76 | 463 | (2*) |
| 18 | Evan Boyd | UCDRC | 79 | 81 | 75 | 70 | 78 | 76 | 459 | (5*) |
| 19 | Tony Donnelly | UCDRC | 72 | 78 | 68 | 75 | 77 | 78 | 448 | (2*) |
| 20 | Donal Bourke | UCDRC | 74 | 80 | 75 | 75 | 71 | 72 | 447 | (1*) |
| 21 | Aoife O'Reilly | DURC | 79 | 73 | 77 | 78 | 70 | 64 | 441 | (0*) |
| 22 | Julian Ewers Peters | DURC | 76 | 69 | 79 | 68 | 70 | 77 | 439 | (2*) |
| 23 | Roohallah Ebrahimi | UCDRC | 76 | 72 | 73 | 72 | 68 | 66 | 427 | (5*) |
| 24 | Ivan De Wergifosse | DURC | 71 | 76 | 70 | 51 | 72 | 81 | 421 | (1*) |
| 25 | Paul Gibbons | UCDRC | 73 | 64 | 70 | 59 | 69 | 74 | 409 | (3*) |
| 26 | Emily Wallace | DURC | 69 | 78 | 56 | 58 | 76 | 70 | 407 | (3*) |
| 27 | Sasheendran Gopalakrishnakone | DURC | 62 | 73 | 63 | 72 | 68 | 63 | 401 | (3*) |
| 28 | Maria Tracey | UCDRC | 73 | 71 | 58 | 60 | 72 | 56 | 390 | (2*) |
| 29 | John Taaffe | UCDRC | 64 | 68 | 63 | 62 | 65 | 58 | 380 | (1*) |
| 30 | Claudio Sansone | DURC | 49 | 73 | 42 | 64 | 68 | 77 | 373 | (0*) |
| 31 | Sean O'Callaghan | DURC | 60 | 65 | 70 | 58 | 49 | 68 | 370 | (1*) |
| 32 | Diarmuid O'Maolalai | DURC | 59 | 59 | 56 | 48 | 47 | 65 | 334 | (1*) |
| 33 | Paul Malone | UCDRC | 55 | 65 | 53 | 49 | 34 | 65 | 321 | (1*) |
Air Rifle 40 Shot
| Rank | Shooter | Club | | | | | Total | Inner 10s |
| --- | --- | --- | --- | --- | --- | --- | --- | --- |
| 1 | Caitriona Murphy | DURC | 86 | 77 | 83 | 92 | 338 | (7*) |
| 2 | Yuecong Wang | UCDRC | 85 | 87 | 88 | 77 | 337 | (5*) |
| 3 | Yanxuedan Zhang | UCDRC | 81 | 84 | 70 | 62 | 297 | (2*) |
| 4 | Sheila Curley | UCDRC | 51 | 52 | 49 | 53 | 205 | (0*) |
Air Pistol 60 Shot
| Rank | Shooter | Club | | | | | | | Total | Inner 10s |
| --- | --- | --- | --- | --- | --- | --- | --- | --- | --- | --- |
| 1 | Lindsey Weedon | MPAI | 86 | 79 | 92 | 89 | 89 | 87 | 522 | (5*) |
| 2 | Caroline O'Brien | RRPC | 89 | 86 | 82 | 89 | 84 | 88 | 518 | (4*) |
| 3 | Eanna Bailey | MPAI | 82 | 78 | 83 | 90 | 88 | 86 | 507 | (5*) |
| 4 | John Lancaster ℗ | UCDRC | 81 | 83 | 85 | 82 | 87 | 85 | 503 | (1*) |
| 5 | John O'Brien | RRPC | 83 | 88 | 79 | 85 | 82 | 80 | 497 | (4*) |
| 6 | Luke McMullan | UCDRC | 78 | 83 | 84 | 76 | 84 | 79 | 484 | (4*) |
| 7 | Philip Conway | UCDRC | 73 | 83 | 79 | 73 | 72 | 65 | 445 | (2*) |
| 8 | Martha Naughton | UCDRC | 58 | 65 | 59 | 63 | 67 | 75 | 387 | (1*) |
| 9 | Aisling Miller ℗ | DURC | 58 | 51 | 51 | 65 | 71 | 62 | 358 | (1*) |
Class A 40 Series
| Rank | Shooter | Club | | | | | Total | Inner 10s |
| --- | --- | --- | --- | --- | --- | --- | --- | --- |
| 1 | Ray Kane | DFST | 94 | 95 | 99 | 100 | 388 | (25*) |
| 2 | Mark Dennehy | WTSC | 94 | 93 | 93 | 95 | 375 | (11*) |
| 3 | Paul O'Boyle | WTSC | 90 | 93 | 91 | 90 | 364 | (14*) |
Class B 40 Series
| Rank | Shooter | Club | | | | | Total | Inner 10s |
| --- | --- | --- | --- | --- | --- | --- | --- | --- |
| 1 | Terry Wearen | DFST | 91 | 93 | 94 | 91 | 369 | (7*) |
| 2 | John Lancaster | UCDRC | 88 | 94 | 92 | 89 | 363 | (11*) |
| 3 | Lorcan O'Carrol | DURC | 89 | 87 | 89 | 94 | 359 | (10*) |
| 4 | Tian Carey | UCDRC | 87 | 91 | 95 | 85 | 358 | (13*) |
| 5 | Diyu Wu | DURC | 85 | 93 | 88 | 91 | 357 | (9*) |
Class C 40 Series
| Rank | Shooter | Club | | | | | Total | Inner 10s |
| --- | --- | --- | --- | --- | --- | --- | --- | --- |
| 1 | Caitriona Murphy | DURC | 86 | 77 | 83 | 92 | 338 | (7*) |
| 2 | Micahel Cullinan | DURC | 79 | 88 | 76 | 82 | 325 | (5*) |
| 3 | Aoife O'Reilly | DURC | 79 | 73 | 77 | 78 | 307 | (0*) |
Class D 40 Series
| Rank | Shooter | Club | | | | | Total | Inner 10s |
| --- | --- | --- | --- | --- | --- | --- | --- | --- |
| 1 | Siobhan Scarlett | DURC | 82 | 82 | 85 | 89 | 338 | (6*) |
| 2 | Yuecong Wang | UCDRC | 85 | 87 | 88 | 77 | 337 | (5*) |
| 3 | Hossein Habibi | UCDRC | 79 | 77 | 87 | 87 | 330 | (7*) |
| 4 | Frank Lavery | DURC | 85 | 87 | 76 | 77 | 325 | (5*) |
| 5 | Tayyaub Mansoor | UCDRC | 86 | 73 | 77 | 81 | 317 | (4*) |
| 6 | Tim Hynes | DURC | 77 | 80 | 77 | 80 | 314 | (4*) |
| 7 | Ian Beatty Orr | DURC | 80 | 76 | 80 | 77 | 313 | (3*) |
| 8 | Evan Boyd | UCDRC | 79 | 81 | 75 | 70 | 305 | (3*) |
| 9 | Donal Bourke | UCDRC | 74 | 80 | 75 | 75 | 304 | (1*) |
| 10 | Claire Leyden | UCDRC | 75 | 70 | 75 | 83 | 303 | (0*) |
| 11 | Logan Hasenbeck | DURC | 77 | 77 | 74 | 70 | 298 | (1*) |
| 12 | Yanxuedan Zhang | UCDRC | 81 | 84 | 70 | 62 | 297 | (2*) |
| 13 | Roohallah Ebrahimi | UCDRC | 76 | 72 | 73 | 72 | 293 | (4*) |
| 14 | Tony Donnelly | UCDRC | 72 | 78 | 68 | 75 | 293 | (2*) |
| 15 | Julian Ewers Peters | DURC | 76 | 69 | 79 | 68 | 292 | (1*) |
| 16 | Sasheendran Gopalakrishnakone | DURC | 62 | 73 | 63 | 72 | 270 | (1*) |
| 17 | Ivan De Wergifosse | DURC | 71 | 76 | 70 | 51 | 268 | (0*) |
| 18 | Paul Gibbons | UCDRC | 73 | 64 | 70 | 59 | 266 | (2*) |
| 19 | Maria Tracey | UCDRC | 73 | 71 | 58 | 60 | 262 | (2*) |
| 20 | Emily Wallace | DURC | 69 | 78 | 56 | 58 | 261 | (2*) |
| 21 | John Taaffe | UCDRC | 64 | 68 | 63 | 62 | 257 | (1*) |
| 22 | Sean O'Callaghan | DURC | 60 | 65 | 70 | 58 | 253 | (1*) |
| 23 | Claudio Sansone | DURC | 49 | 73 | 42 | 64 | 228 | (0*) |
| 24 | Paul Malone | UCDRC | 55 | 65 | 53 | 49 | 222 | (1*) |
| 25 | Diarmuid O'Maolalai | DURC | 59 | 59 | 56 | 48 | 222 | (1*) |
| 26 | Sheila Curley | UCDRC | 51 | 52 | 49 | 53 | 205 | (0*) |
Fun Final
| Rank | Shooter | Club | | | | | | | | | | | Total |
| --- | --- | --- | --- | --- | --- | --- | --- | --- | --- | --- | --- | --- | --- |
| 1 | Ray Kane | DFST | 9.5 | 10.2 | 10.5 | 9.2 | 10.6 | 10.4 | 10.5 | 10.3 | 9.8 | 10.5 | 101.5 |
| 2 | Tian Carey | UCDRC | 10.2 | 10.0 | 9.9 | 9.6 | 9.4 | 10.5 | 10.6 | 8.9 | 7.5 | 9.0 | 95.6 |
| 3 | Michael Cullinan | DURC | 9.9 | 9.9 | 9.5 | 9.6 | 9.3 | 10.7 | 9.6 | 9.1 | 10.0 | 7.9 | 95.5 |
| 4 | Frank Lavery | DURC | 5.4 | 9.9 | 9.3 | 7.5 | 10.2 | 8.9 | 9.2 | 9.3 | 4.4 | 9.3 | 83.4 |
| 5 | Tim Hynes | DURC | 9.1 | 9.1 | 7.2 | 8.9 | 8.5 | 8.1 | 8.4 | 8.3 | 6.1 | 7.3 | 81.0 |
| 6 | Donal Bourke | UCDRC | 2.9 | 8.3 | 8.3 | 8.6 | 8.6 | 7.2 | 8.2 | 8.3 | 9.4 | 9.4 | 79.2 |
| 7 | Ivan De Wergifosse | DURC | 5.3 | 9.0 | 6.4 | 4.9 | 9.9 | 10.0 | 2.8 | 9.5 | 3.2 | 9.0 | 70.0 |
| 8 | Julian Ewers-Peters | DURC | 3.6 | 5.9 | 8.5 | 1.3 | 7.3 | 4.1 | 8.1 | 5.2 | 6.4 | 5.0 | 55.4 |