Well, for a start, it's not that complicated. There's only one form to fill out and not too much to fill out on it.
Unfortunately, since I wrote the above, the situation has changed considerably. There is still only the one form to fill out, but it's gone from a fairly simple one-page affair to a nine-page affair (though you only fill in six of those nine pages). The guts of the procedure haven't changed enormously, however more information is now sought, and there are more things to do before applying.
Basicly, once you know what kind of rifle or pistol you're applying for a licence for and what it's serial number is (your firearms dealer will tell you what that is, and will probably walk you through the whole procedure as well), you download an FCA1 form from the Garda website and fill it out.
The Garda who will process the form (there's usually one or two Gardai per station who are assigned to handle firearms licencing) will want to have a chat with you, to see why you want the firearm, and to generally ensure that you're not a threat to the public. He or she will usually go over the form with you to ensure it's all correct. It's usually a good idea, therefore, to call the station before you go there to see if that garda is on duty and to let him or her know you're coming in to file the form, as a courtesy.
There's an €80 fee for the licence, which is valid for three years from the date of issue, regardless of the type of firearm being licenced.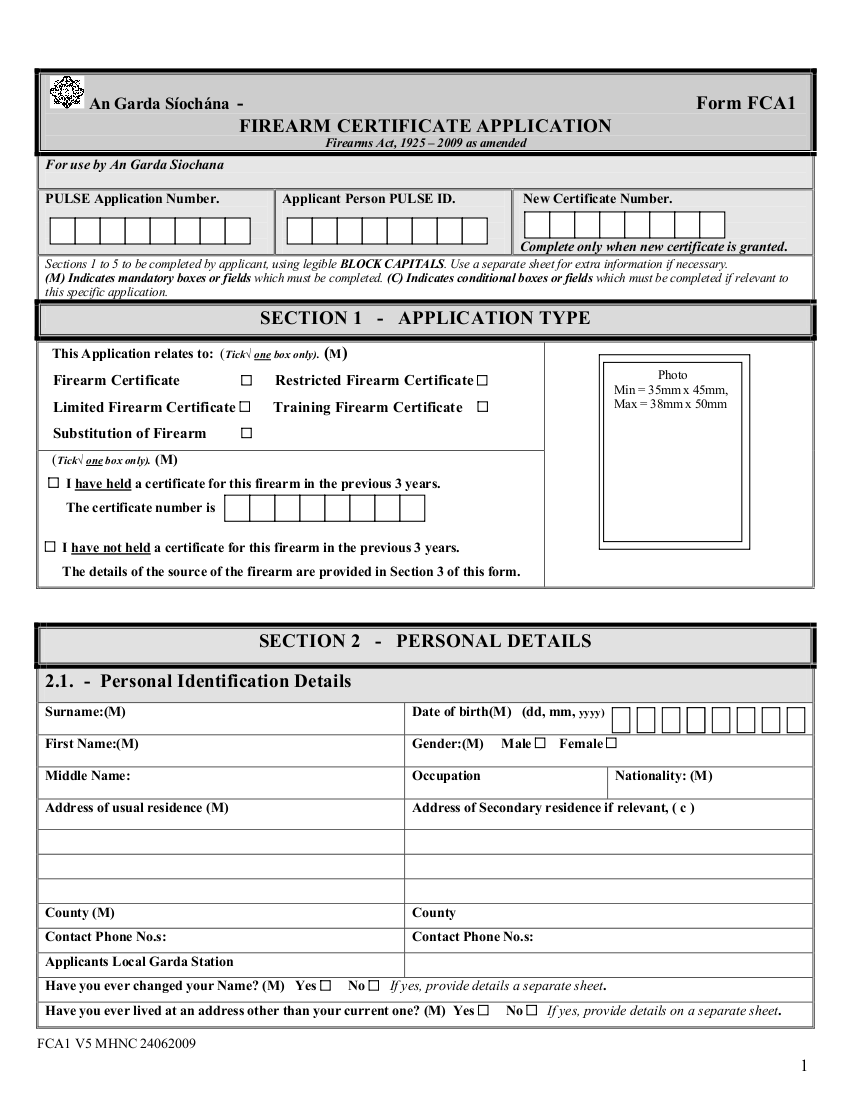 The first page is relatively straightforward. A photo is required; standard passport photos are what's sought here. Take note however, that you must specify whether it is a normal or a restricted firearm. For ISSF firearms, all of our firearms are unrestricted and you simply specify "Firearm Certificate" in Section 1.
Section 2 is very straightforward. Anything in the form marked with an (M) is mandatory and must be filled in. Anything with (c) is mandatory if it applies – so for example, if you have a secondary residence, you must fill in the details.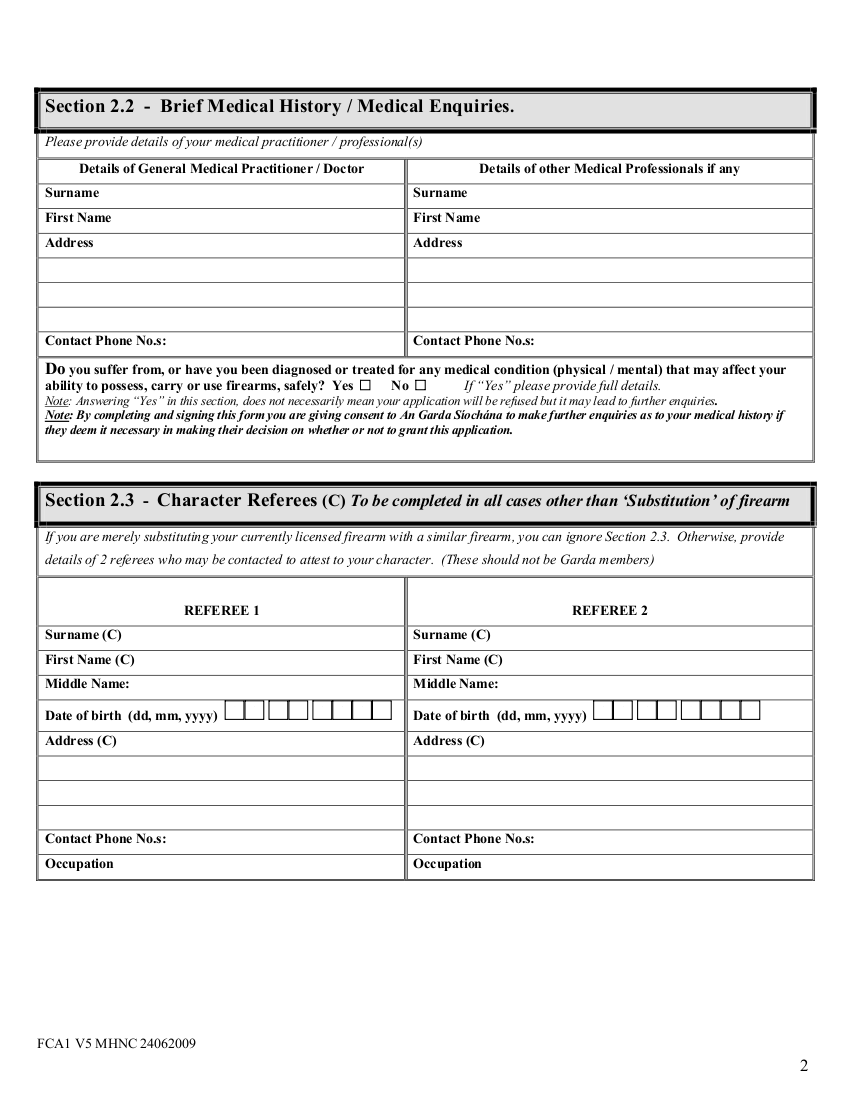 Note that in section 2.2 here, it is mandatory to complete the section and filling it in gives the Gardai permission implicitly to access your medical records.
Also note that in section 2.3, your referees will probably be called. Generally, most people seem to be using other members of their club or their family as referees.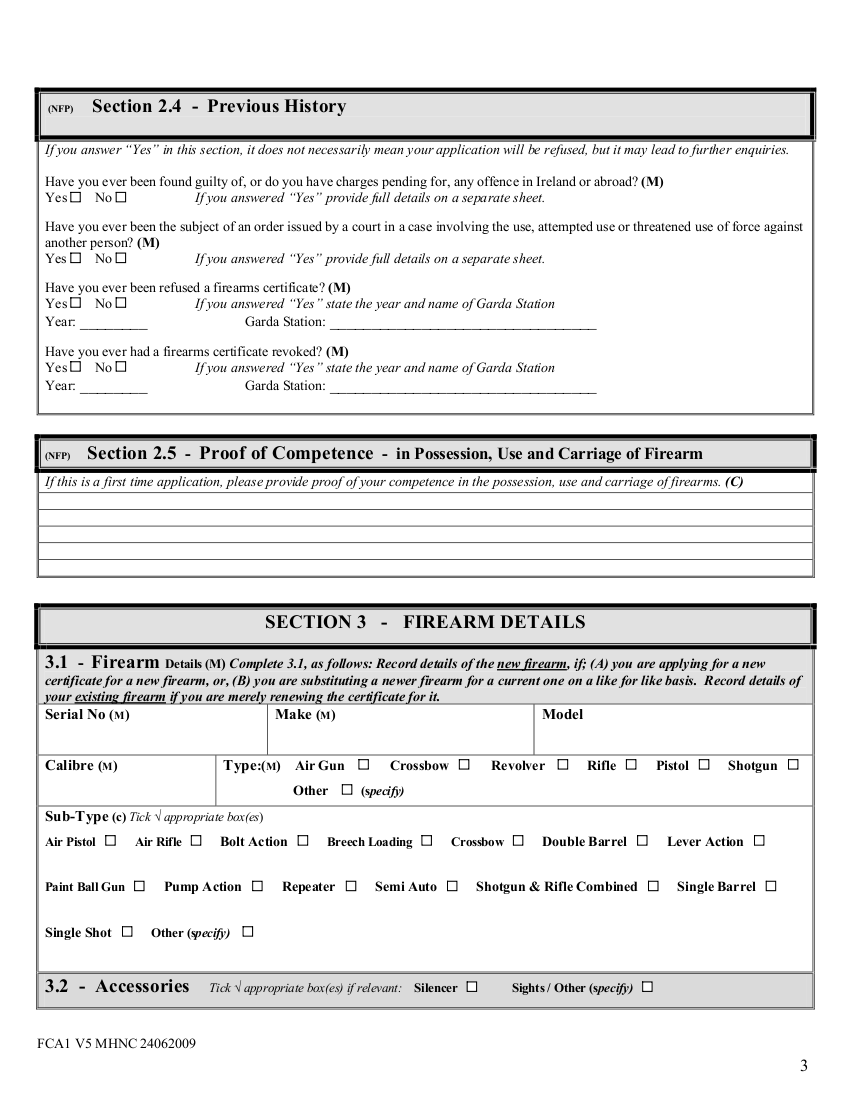 In section 2.5 here, proof of competence, those who've held firearms before can specify that as proof; failing that, it's not really possible to say what qualifies as proof. There is currently no list of accepted courses or other training activities that the Gardai will always accept as this proof; it's best to call your local station and ask. There are various courses in the country at the moment; ask which one the Gardai recommend. Be advised that some courses may not be directly applicable – the NARGC handling course, for example, is not in general very applicable to ISSF target shooting.
In section 3 note that 'repeater' means a rifle with a magazine and either a bolt action or a level action or whatever. And that in section 3.2, 'Sights' refers to night vision or thermal sights. ISSF firearms don't have either, nor do we use silencers so you can leave those blank.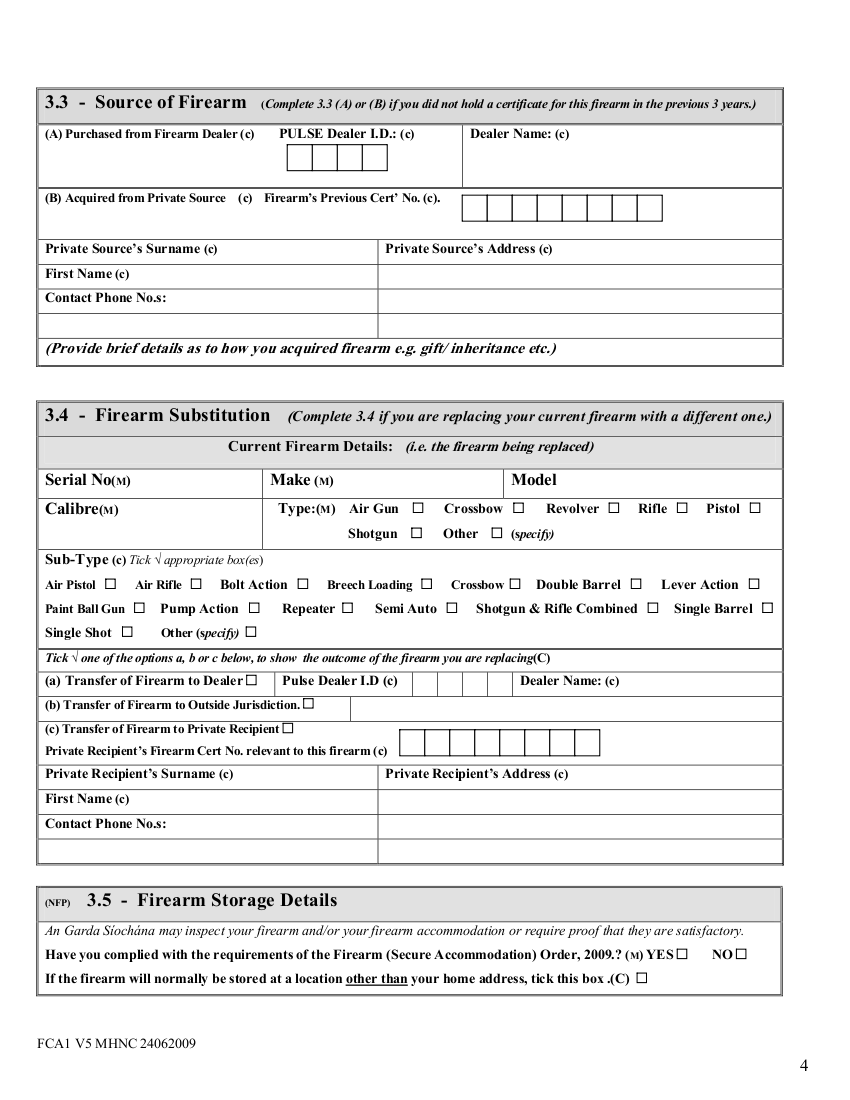 For a new firearm, you'll want to fill in section 3.3; section 3.4 only applies if you're changing from one to another. Most of the details in section 3.3 can be obtained from the dealer or the person you're buying the rifle from. For section 3.5, the Firearms (Secure Accomodation) Order 2009 basicly says (for ISSF firearms) that you need a gunsafe. The Gardai may wish to inspect this gunsafe. They may also wish for the local Crime Prevention Officer to evaluate your home's security in the process.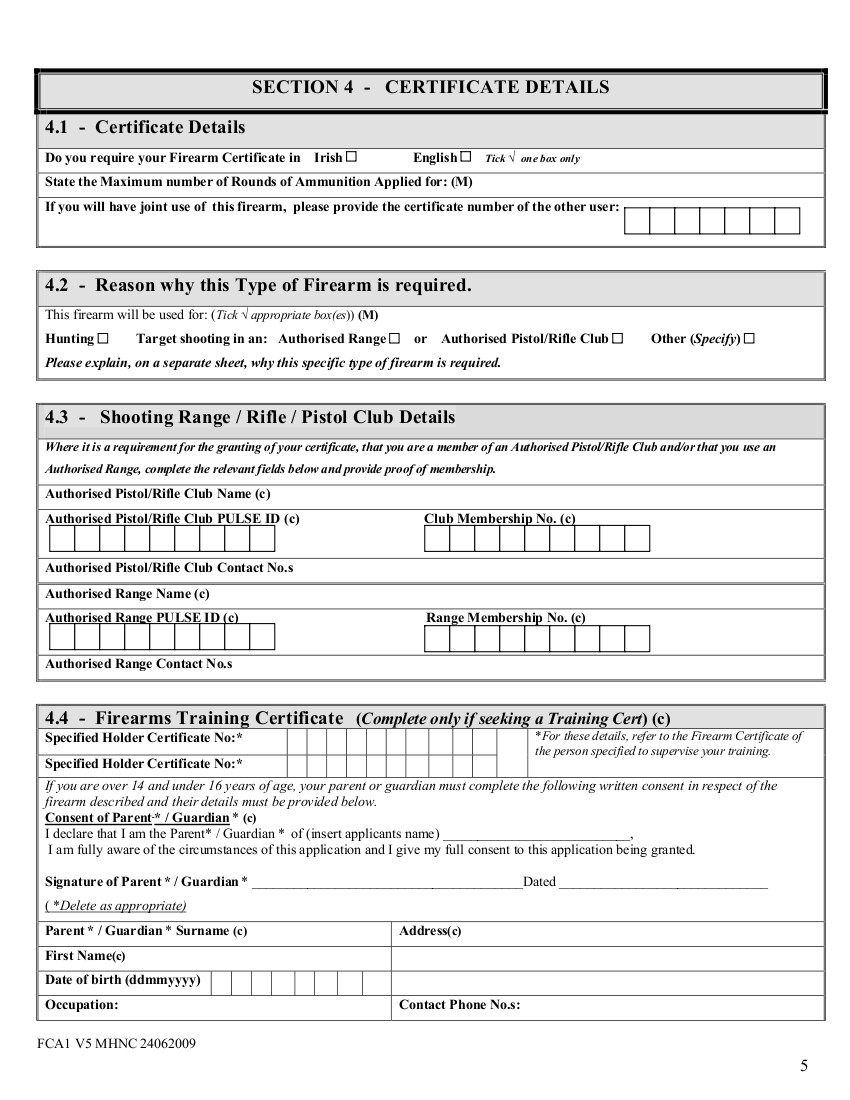 Note that in section 4.1 you may want to request somewhere around 10,000 rounds under the "Maximum number of Rounds of Ammunition applied for". It does sound enormous, but in reality, it isn't. If you're getting an air rifle or pistol, pellets are sold in tins of 500, which are often sold in sleeves of ten tins. If you're getting a smallbore rifle or pistol, rounds are sold in boxes of 50, which are usually packaged in pairs, then in bricks of five pairs. And if you're getting serious about competing in a few years, you may be buying batch-tested ammunition (where you go to the factory and spend a morning shooting ten or twenty rounds from several different batches of ammunition until you find the best match to your rifle – at which point you buy a minimum of 10,000 rounds of ammunition from that batch!).
So you will actually find that 10,000 round limit useful, if not outright necessary. And, as the default figure supplied if you don't specify one is 100 rounds (you can't even buy that few air rifle pellets!), it's usually a good idea to specify a figure yourself. Obviously, it's a good idea if you're buying this much ammunition to get a lockbox to keep it in – these aren't going to break the bank, and it's an excellent idea from a security viewpoint, as well as a safety viewpoint, especially if there are children at home.
And note that ISSF requirements in this are rather odd, in Ireland. You will definitely want to explain the above to your local Garda, because 10,000 rounds will sound enormous to him as well unless he knows that you're shooting ISSF disciplines. Again, call ahead, let him know.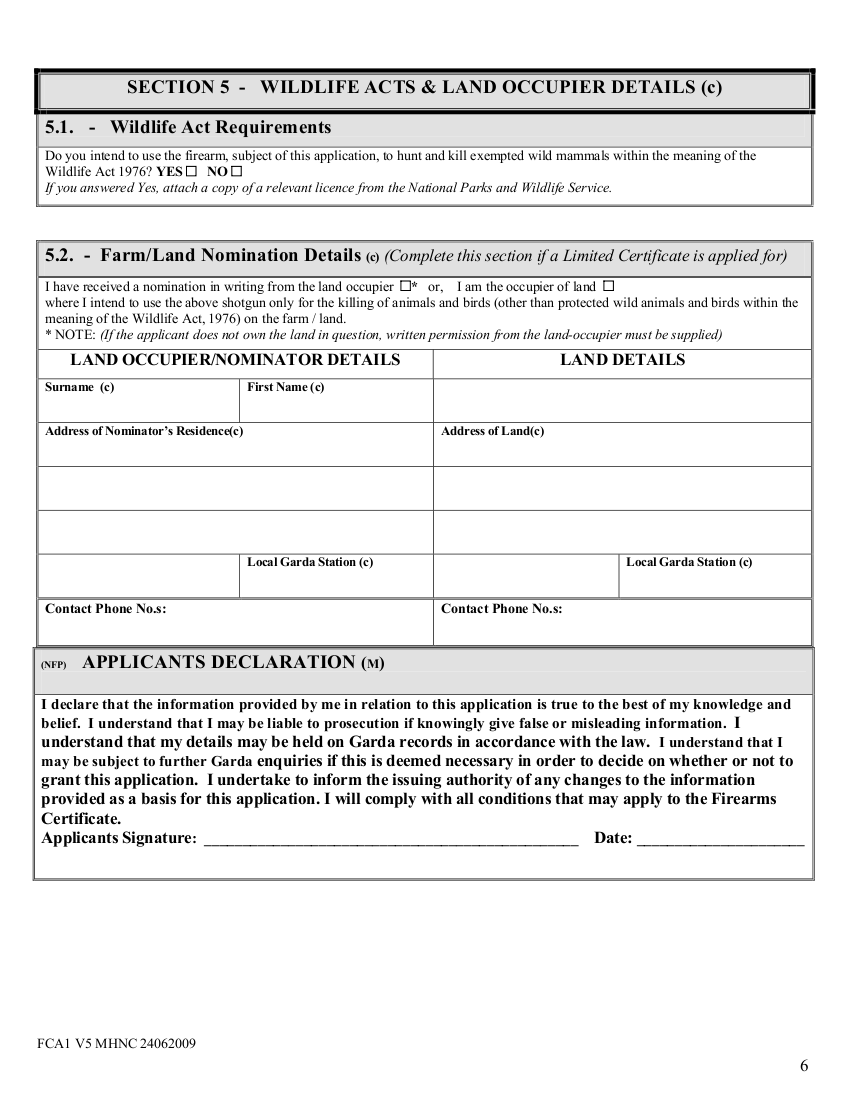 This is the last page that you fill in. Most of section 5 doesn't apply to ISSF shooters; we just sign the declaration. Sections 6, 7, 8 and 9 are filled out by the Gardai.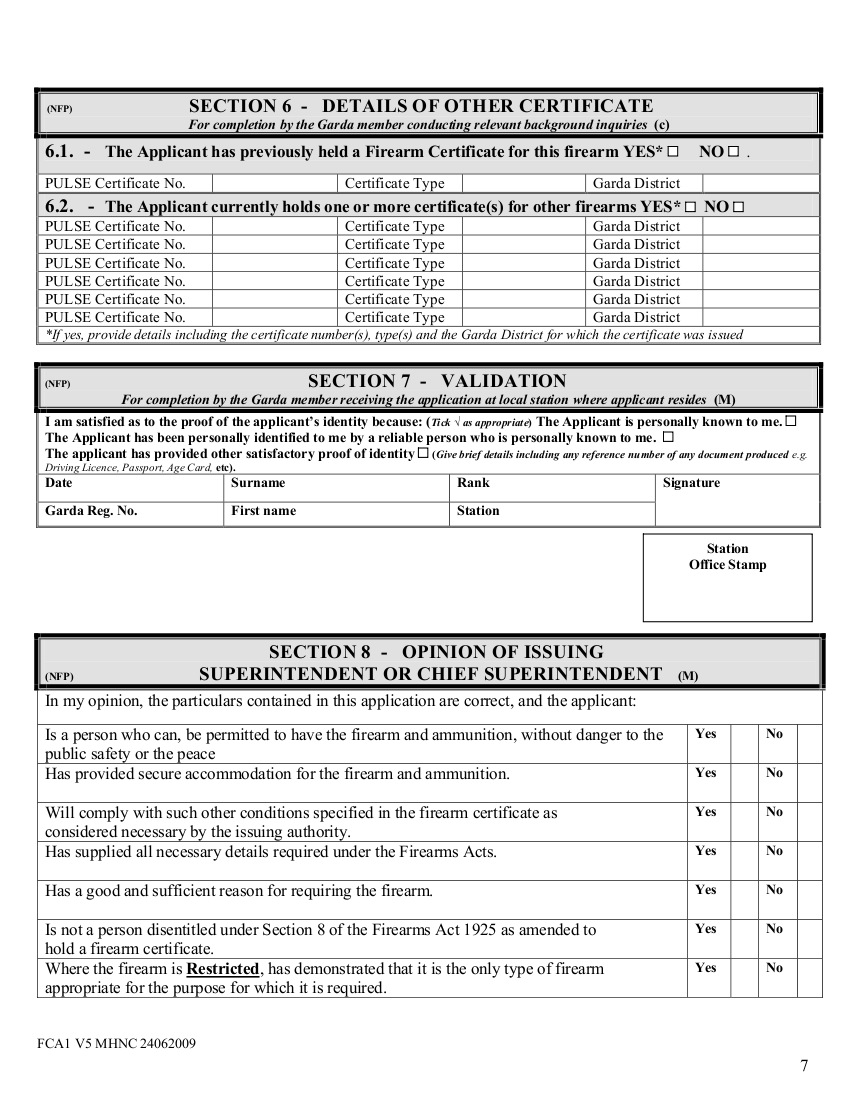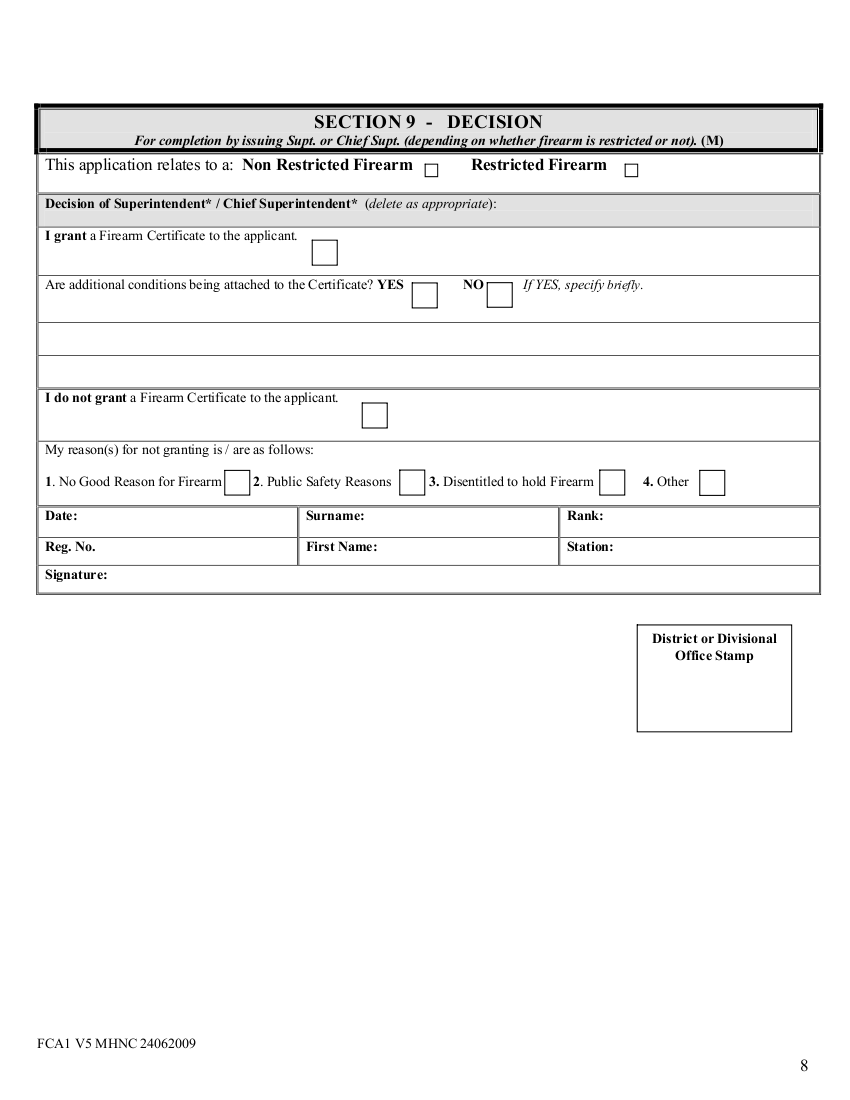 Once the form is filled in and filed with the local station, you will receive a reply within three months. You may get an official letter stating the licence has been received. This does not guarantee the licence will be granted! If you do not receive the letter, don't panic, it's not a sign something has gone wrong. If you do, it'll look like this: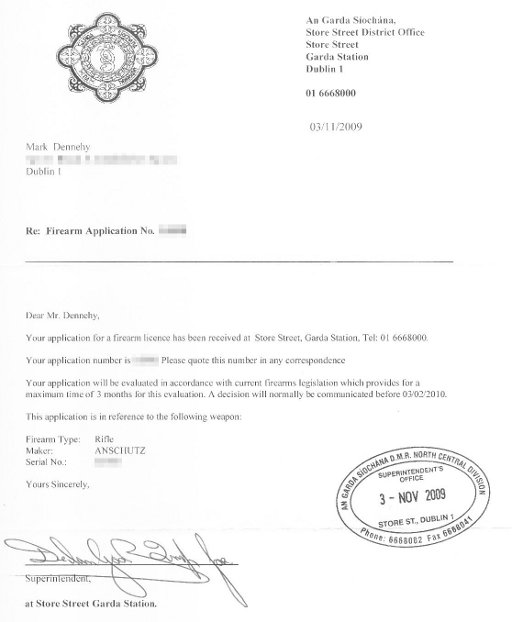 Within the three months from the application date (and generally much faster than that), you'll receive a second letter stating whether or not the licence has been granted. If it has, you must pay the €80 fee. Some Post Offices (the list is on the Garda website here) will take the money (or laser card or whatever) at the desk; if not, the form at the bottom of the grant letter must be sent back to the indicated address: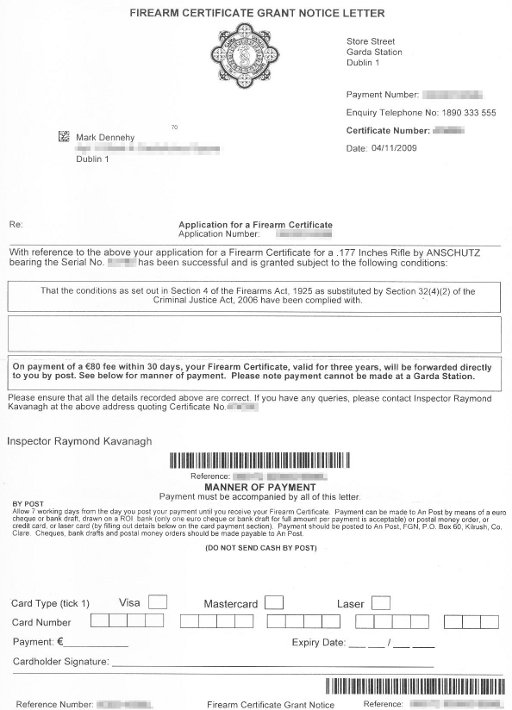 Once the payment is sent, the licence should be with you within a few days: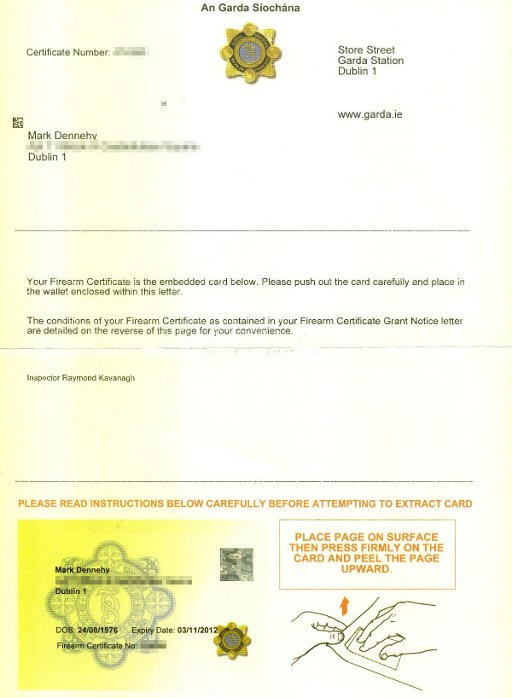 The actual licence itself is the yellow plastic card at the bottom left: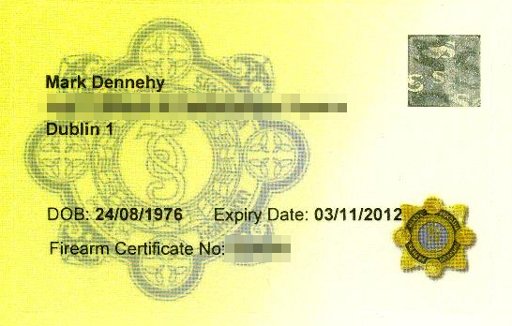 In the event that you are refused; or in the event that you do not hear back from the Gardai within the three months (which is legally the same as being refused and notified of that refusal), the refusal can, if you so wish, be appealed at the local District Court. In the event that this happens, I would strongly urge you to contact your NGB before proceeding. It may be possible to resolve things less confrontationally. For ISSF rifle/pistol shooters, email Chairman@targetshootingireland.org; for ISSF shotgun shooters, email icpsa@eircom.net and detail what has happened.