…or a major improvement. I don't know yet, and probably won't know for a week or so.
First of all, I tweaked my buttplate. That change has been a while coming, it was needed and expected and is reversible. Basicly, I just raised the buttplate a little – I was settling into position below the aiming mark too often, and this fixed that. So that's okay.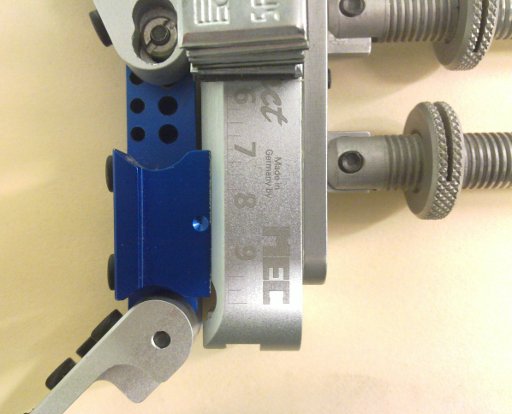 The worry is the other change I made.
After yesterday's session, and the last few training sessions both with and without Matt watching, I've been watching that rightward drift of my NPA and trying to find the cause or to fix it. Turning my feet so that they're no longer parallel is not really an option, as it compromised my stability. Turning on the spot proved very difficult, and not repeatably consistently. Moving my right foot forward opened my hips to the target line and compromised stability. Moving the buttplate further out along my arm put it firmly on the bicep muscle, which was a recipe for pulse and twitches. The other problem with these solutions was that they didn't seem to work anyway – that rightward drift kept creeping back in, no matter what I tried.
So last night I try the same exercise as on Tuesday. And I'm in a pretty good state compared to Tuesday, which is good, more data to check. After warm-up and dry-firing, the first ten shots of the exercise (the control group, shot eyes open) go down well: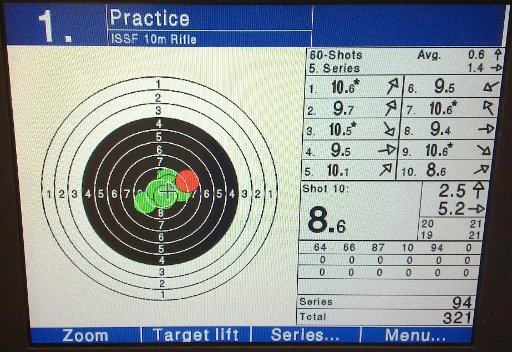 Just two fliers, shot 6 and shot 10. The RIKA is tracking away, but again, the calibration isn't matching Megalink to RIKA perfectly — this is the same group on the RIKA: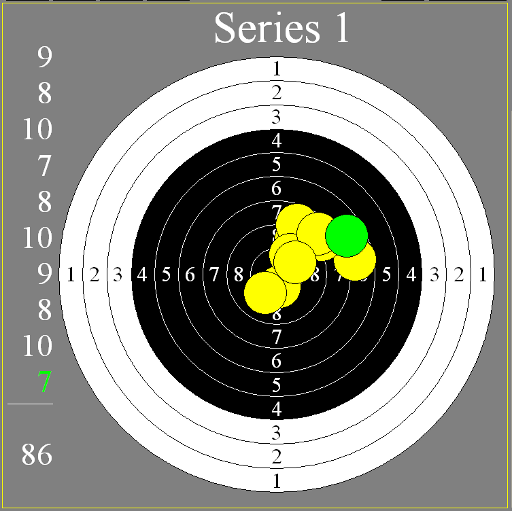 So again, watch the individual trace shapes, not their location on the target because the calibration seems to be drifting from shot to shot (other shooters have noticed this on this RIKA unit as well, not just me):
So it's not bad, the shots all land in the hold area, more or less, and the hold area's small enough: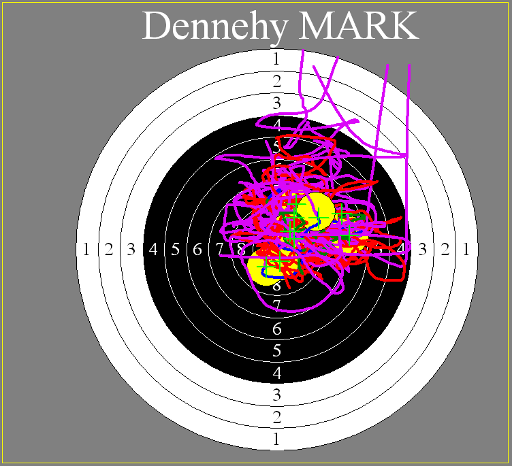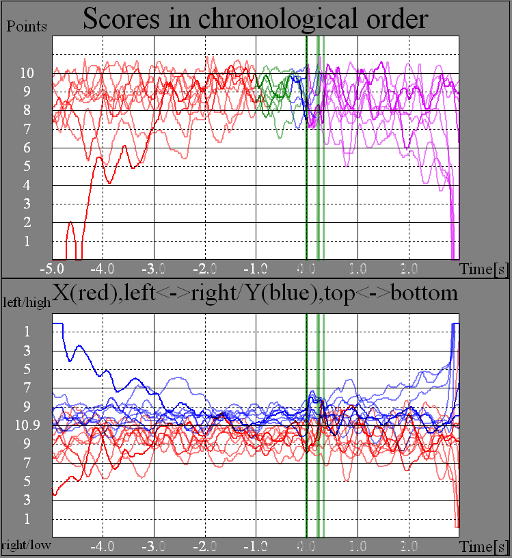 So that's not a bad control group. Not the best I've ever shot, but more than good enough to work with. Tuesday saw a major drift of the NPA to the right when I fired with both eyes closed, but was that because I was having an off day or because of a real issue?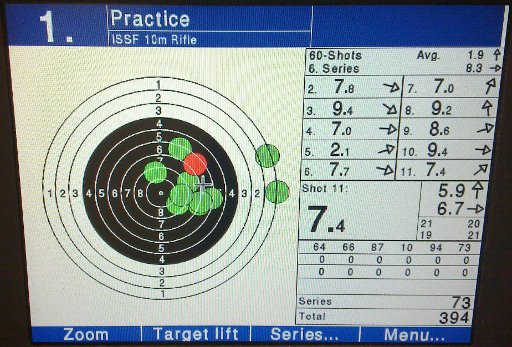 Yeah, I'm going to go ahead and call that a real problem. The RIKA agrees (again, the calibration's off…)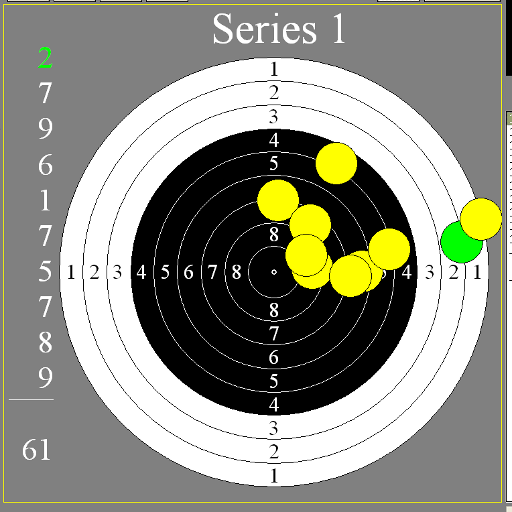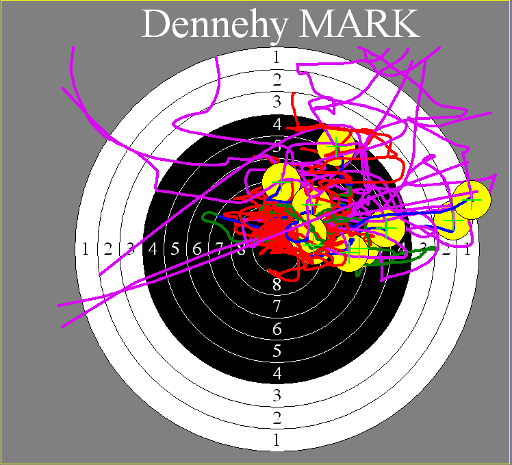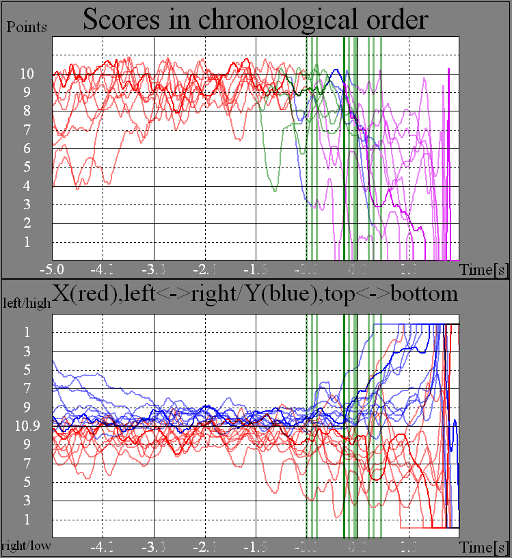 Okay. So that's a conservative tweak, a good control group, a good test group, a problem clearly spotted, and good data all round. So far so good. Here's where it gets a bit hinky.
When I drop my head into position, and look through the rearsight on target, I could tell there was something pushing the rifle out of my cheek and trying to rotate it around the axis of the barrel (or a parallel axis a bit lower down). It showed up on Tuesday, and I've seen in a match or two in the past, but I had it down as a product of a bad day. But I got to thinking when it showed up today as well (when I wasn't having a bad day) and I started looking at it, and after some experimenting, I came to the conclusion that the cheekpiece came just a smidge too far out to the left of the rifle, so that when I dropped my head into position initially and compressed the flesh of my cheek, it was okay, but as the flesh decompressed, it pushed the cheekpiece away from my cheekbone.
Solution? Move the cheekpiece.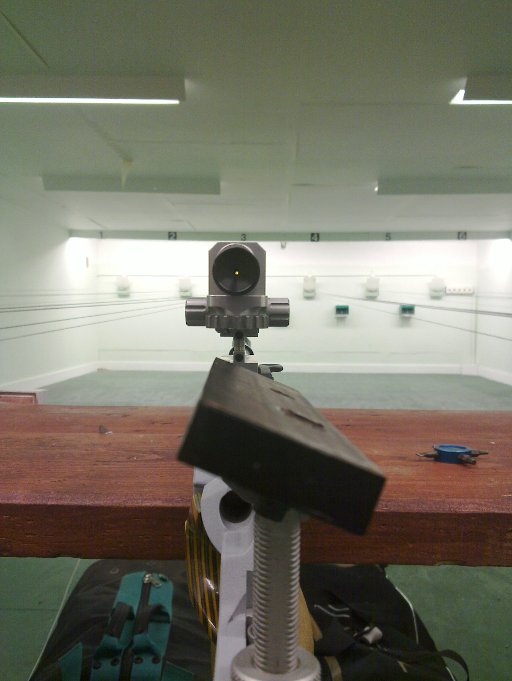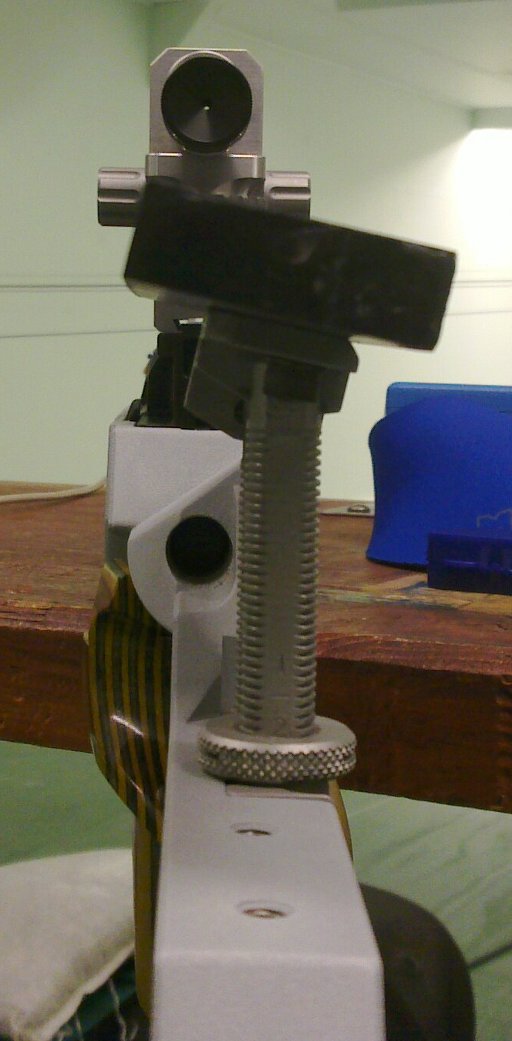 The angle of the cheekpiece is now shallower, and it has been moved to the right by about four mm. Which doesn't sound like much, but makes a large difference. It's also been raised just a smidge to compensate for the angle change, but that's more a consequence than a change in itself.
The results seemed very promising – the rifle is no longer shoved out of my face, my head's just sitting there on the cheekpiece comfortably without any side pressure and with the foresight nicely centered in the rearsight. And the RIKA trace shows a good hold with this:
So why the worry? Well, first off, it's like I said yesterday – changing the rifle setup is a Big Thing™. Having made the change, it's going to be a week or so before I know I made it correctly (ie. did I move it far enough left or change the angle too much, etc), and longer before I know if it fixed the problem properly. And ideally, I should probably have waited another few sessions first. Dumb rookie mistake.
Hopefully, there'll be some dumb luck to go with the dumb mistake, and this will lead to an improvement… we'll find out over the next few sessions… and then there'll be a few hundred dry-firing cycles to run through to properly bed the change in.
What, you thought a quick change to the rifle would be quick? 😀